In April, it's skiing spring in les Arcs!
Original events and festivities to help you to leave winter behind in style and enjoy riding under the radiant end-of-season sun … Welcome to les Arcs Spring Final!
More than just skiing, there are entertainments in the resort and the ski area, fun and relaxation are waiting for you.
On the programme for the 3rd running of the event: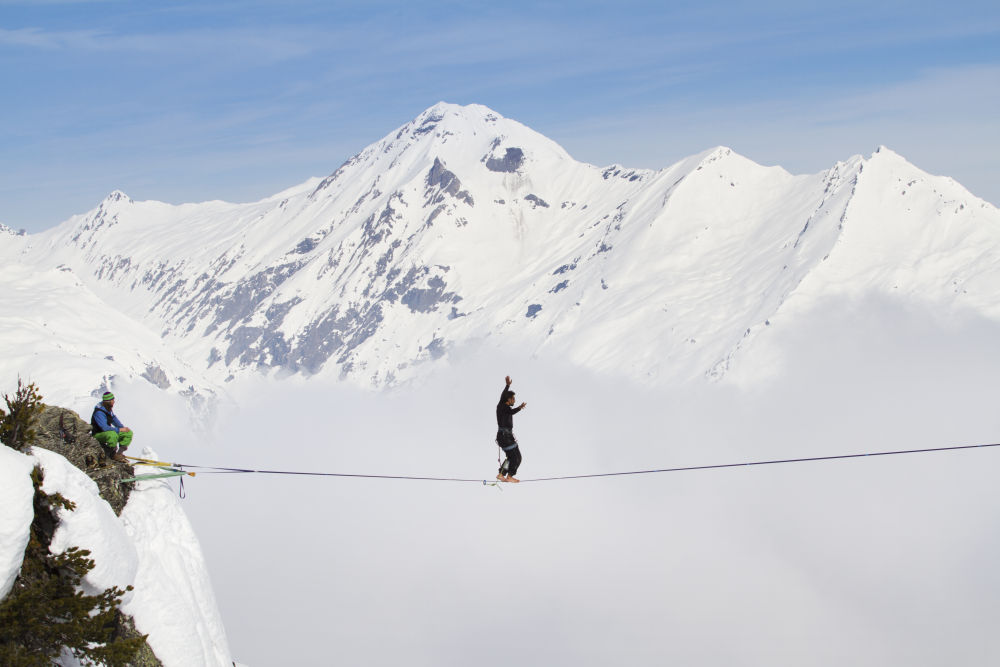 Demonstrations and introductions to Highline and Slackline at the Winter Festislack which will take place from 08 to 10 April to mark the start of this season of festivities in the company of Chlöé Roux-Mollard of Team Les Arcs and chair of the Slackicimes association, the event's organiser.

Recordmen and Womens world record holders will also be present, among them:
- Nathan Paulin (FR): longline and highline
- Antony Newton (FR): longline
- Clément Fabre (FR): longline
- Faith Dickey (USA): longline, waterline and highline
New: Pro jumpline contest on Friday 08 April at the end of the afternoon in Arc 1800. A first in a ski resort for a spectacular show with the presence of the best jumpers of the world:
- Mickey Wilson (USA): Winner RED BULL Airlines
- Emi Gimenez (SP)
- Alexendra Arendt (GER)
The John Doe Session on 09 and 10 April - come to the snowpark, snowboard on your feet, and test a line of obstacles specially created for the occasion and open to everyone!
A contest will be organised in the presence of the best snowboarders in the planet, including Valérian Ducourtil of Team Les Arcs!
The UNMISSABLE visit to the Waterslide with beach party, BBQ and jumping on the big air bag,
Bubble Foot, an original football match where each player wears a large, inflatable transparent bubble.
Ride'n Golf, a golf competition on a temporary 9-hole snow course,
A Pink Party at sunset,
Not for getting the ELECTRO SPRING MILLE8, DJ sets from 3.pm to 5. pm in front of the Lodge and the Spring Parties, organised by the mountain restaurants
To enjoy these activities to the full, don't forget to book your holiday: